– Governor Simon Lalong has been asked to go back to school for formal education
– The call was made by the opposition Peoples Democratic Party
– Recall that the governor had recently claimed that herders and farmers are carrying weapons
PAY ATTENTION: Join Legit.ng Telegram channel! Never miss important updates!
The Peoples Democratic Party (PDP) has told Plateau Governor Simon Lalong to go "back to school and learn how to talk" over comments on farmers/herders clash in the State.
The Governor, according to the opposition party, lied on his comment and needs to return to school on how to talk properly on such sensitive matters.
Lalong, during a TV show on Tuesday, had said security reports at his disposal indicated herdsmen and farmers carry AK 47 riffles to protect and defend themselves.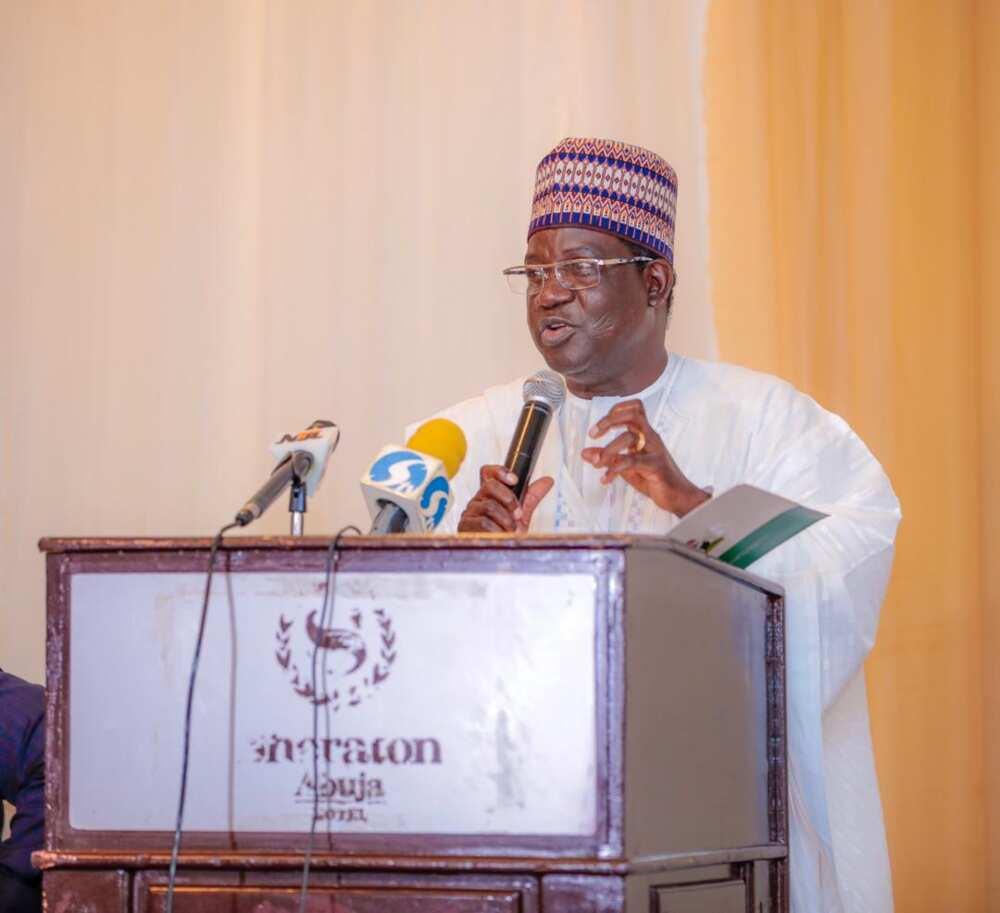 But the PDP faulted Lalong's comment, asking him to apologise to farmers and Plateau citizens for "selling them out."
In defence, the All Progressives Congress (APC) leadership described PDP's criticism as not only ill-conceived but misplaced and mischievous.
However, responding to APC's reaction the PDP on Thursday, through its Publicity Secretary, Plateau state chapter, John T. Akans, described APC's reaction as "reckless."
Akans, in a statement, explained: "The reckless response of the APC to the genuine concerns of Plateau people on the recent irresponsible comments of Governor Lalong leaves one with no feeling other than that of utter disappointment and disgust.
"We continue to wonder how a sane person or party would condone such shameful and self- indicting comments of a supposedly elected governor against his people before the entire world, describing it myopically as "a storm in a tea cup" Such an idiomatic sense needs recalibration.
"The APC in its desperate attempt to do damage control has created more harm to Lalong and its party and have further exposed their cluelessness in governance.
"The writer, in his usual garrulous, uncouth manner, and attempt to divert people's attention from the colossal disgrace and failures of the APC, failed woefully to address frank and glaring issues raised by the Peoples Democratic Party.
Legit.ng had also reported that Governor Bala Mohammed of Bauchi state said herdsmen are not to be blamed for bearing firearms.
The governor said they are only protecting themselves against cattle rustlers who attack, kill and take away their possessions.
Mohammed spoke as a special guest of honour at the launch of the inaugural edition of the Bauchi correspondents' chapel of the Nigeria Union of Journalists (NUJ)'s magazine titled 'Correspondents' Watch" on Thursday, February 11.
However, Governor Mohammed on Friday, February 19, defended his comment about armed herders.
According to the governor, his comment supporting herdsmen arming themselves with AK-47 rifles was a figure of speech endorsing their protection.
The comment of the governor had sparked outrage across Nigeria, with many accusing him of supporting criminality.