In our bid to always put people first, Legit.ng, Nigeria's number one news and entertainment website, has launched Digital Talks, a new project to connect business professionals in the country.
Digital Talks is a community of executives where they can learn from high-flying professionals and also share their own knowledge.
It includes a subscription to Legit.ng's monthly business newsletters which forward-looking executives can join at https://corp.legit.ng/email-subscribe.
Other benefits of joining Digital Talks include receiving straight to the inbox:
— Digital innovations and solutions
— Main trends in digital marketing
— Case studies and practical advice
— Expert opinion
— The most important and interesting business news
All of these benefits come at no cost because joining Digital Talks is absolutely free.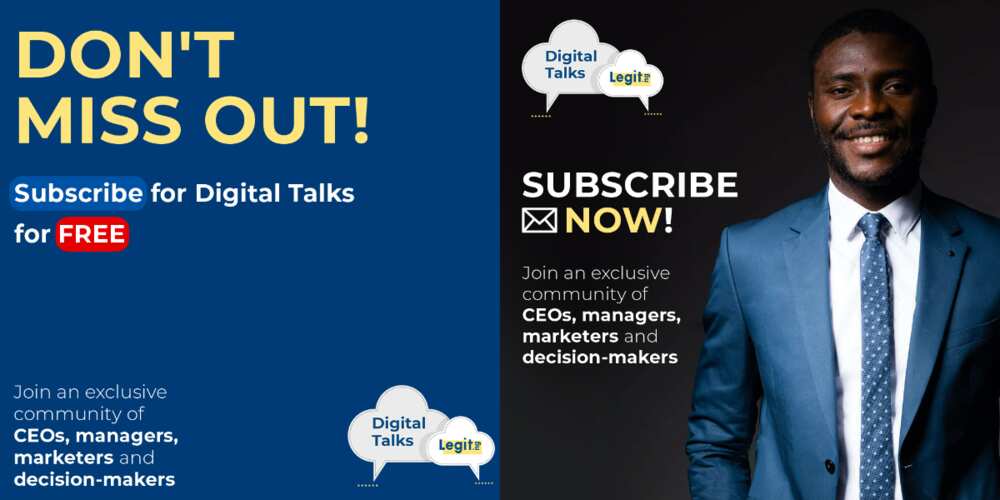 Additional benefits for Digital Talks members include uniting of decision-makers on Telegram channel and our group on LinkedIn.
Legit.ng also plans to hold online interviews with Nigerian business influencers.
Goke Olaegbe, Managing Director of Legit.ng while recently announcing the debut of the project, explained it better:
"I'm pleased to announce a new project that connects business professionals in Nigeria! Digital Talks is a community of executives where you can learn from the best and share your knowledge."
PAY ATTENTION: Join the exclusive community for MDs, CEOs, CMOs, Marketers, Managers and decision-makers!
At Legit.ng, we are forever concerned about your wellbeing, both physically and financially. You can reach out to our marketing for business discussions.