– There is a new face in Nigeria's seat of power, Presidential Villa, Aso Rock, Abuja
– Lieutenant Colonel Yusuf Mukthar Dodo officially resumed on Monday, February 22 as the new Aide-De-Camp to the president
– Before his appointment, Dodo was the Academy Adjutant of the Nigerian Defence Academy in Kaduna state
PAY ATTENTION: Join Legit.ng Telegram channel! Never miss important updates!
President Muhammadu Buhari's new Aide-De-Camp, Lieutenant Colonel Yusuf Mukthar Dodo officially resumed on Monday, February 22.
The presidency had earlier announced Dodo's appointment as the ADC of the president while announcing that his predecessor, Colonel Mohammed Abubakar will be proceeding to promotion course in Chile.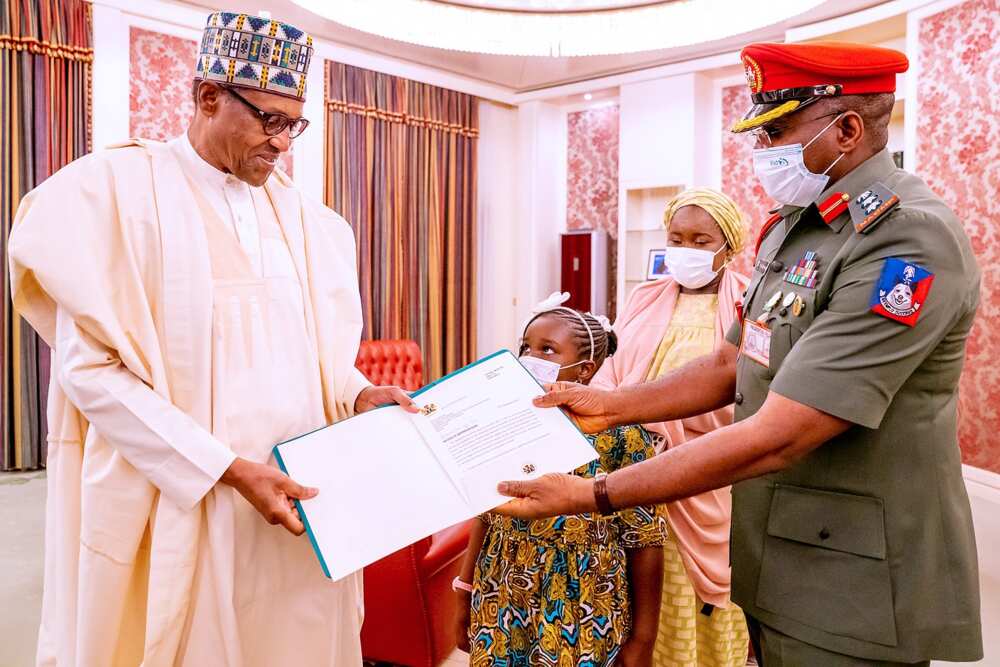 Colonel Abubakar and his family visited the presidential villa and presented an appreciation letter to the president.
PAY ATTENTION: Install our latest app for Android, read the best news on Nigeria's #1 news app
In one of the photos shared by the presidency and seen by Legit.ng, the daughter of the outgoing ADC was seen saluting Buhari in a military way prompting laughter from the president and her mother.
Another photo shows Dodo saluting the president as he resumes his new position, after understudying his predecessor for a few weeks.
Military sources say Lieutenant Colonel Dodo is widely regarded as one of the finest officers in the Nigerian Army.
Until his latest appointment as the president's ADC, Lieutenant Colonel Dodo was the Academy Adjutant of the Nigerian Defence Academy in Kaduna state.
He was said to have been nominated alongside two other officers by Colonel Abubakar for President Buhari to choose from.
Legit.ng had earlier reported that Colonel Abubakar has made history as Nigeria's longest ADC to a civilian president.
Abubakar is also the second longest-serving ADC in the history of the Armed Forces of Nigeria after late Colonel Walbe who served General Yakubu Gowon for nine years.
An Aide-De-Camp is a personal assistant or secretary to a person of high rank, usually a senior military or government officer, a member of a royal family, or a head of state.
Nigeria inherited the practice of assigning military aides-de-camp to the head of state and commander in chief from the British. British governors-general of Nigeria (before independence) had military ADCs.
Jerrywright Ukwu is an Abuja-based senior political/defence correspondent at Legit.ng. He is a graduate of the Nigerian Institute of Journalism, Lagos and the International Institute of Journalism in Abuja. He is also a member of the Nigeria Union of Journalists. He spends his leisure-time reading history books. He can be reached via email at jerrywright39@yahoo.com.