– Regarded as one of the most fearless and perhaps unconventional Islamic clerics, Sheik Abubakar Gumi has taken his bravity to forests
– Gumi had a session with some bandits on Wednesday, February 3
– The scholar is known to have had talks with the criminals in an effort to reach a resolution and end the crimes
PAY ATTENTION: Join Legit.ng Telegram channel! Never miss important updates!
Sheikh Abubakar Ahmad Gumi, a Kaduna-based Islamic cleric, has taken another bold and rather dangerous step to end banditry not only in the state but in the whole of northern Nigeria.
The fearless scholar is famous for going into the deep recesses of forests to dialogue with the armed criminals in a bid to hear their grievances and possibly fashion out a workable method of stopping the bloodletting.
Gumi, alongside some other Islamic clerics, carried out this feat again on Wednesday, February 3, when he met with the bandits for another round of dialogue.
The Nation has released photos that capture moments when Gumi was having talks with the gunmen.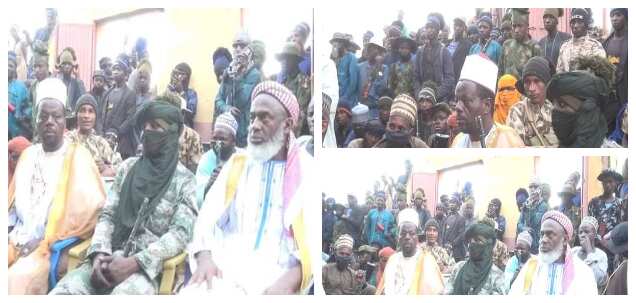 PAY ATTENTION: Install our latest app for Android, read best news on Nigeria's #1 news app
Earlier, Gumi came out to make powerful revelations on security issues. In an interview with journalists on Saturday, January 23, said that from his study and conversation with these supposed criminals, he discovered that most of them were actually victims of military incursions and crimes they are now into kidnap, maiming, and even banditry.
The famous Islamic scholar said most of the herdsmen were pushed to the forest due to the government's alleged reluctance to deal with deteriorating security in the region, and in order to protect themselves, became criminals themselves.
Sheikh Gumi said the herders are not in any way different from persons who reside in town and urban areas as some of them speak English with fluency.
He said:
"These are people who are not different from the folks in town, only that they are nomadic. So, it has reached the extent that they cannot go into towns and markets because they will be lynched.
"They have been confined to the bushes and so they find themselves pressed to harm the society just the way the society is harming them."