Patrick Okedinachi Utomi is a Nigerian professor of political economy and management expert. In this exclusive telephone interview with Legit.ng's regional reporter in Lagos, Adeoye Adewunmi, the economic guru shares his views on and the recent federal government's action towards revamping the economy and probable way out of the country's economic quagmire.
PAY ATTENTION: Join Legit.ng Telegram channel! Never miss important updates!
What is your reaction to the FG's plan to borrow money from the unclaimed dividends and dormant accounts?
I think the federal government ought to be extremely careful about this. It is like saying this thing does not belong to me but let me borrow from it and I am the master who determines how much I borrow. I mean you need the person who owns it to say this is the amount I want to lend you from my money. So, we need to be extremely careful because of the illegal situation.
But, there is a financing challenge in the country?
Yes, there is and the government is looking for every way it can find money but we have to be careful that we just don't go and spend other people's money whether they are alive or dead because it can be subject to litigation.
If somebody organises all of those people and goes to a lawsuit to say look this one belongs to our grandfather who died and they have gone to give it at a rate of 5% whereas they would have preferred a 30%, what are you going to do? So, it is a very touching issue.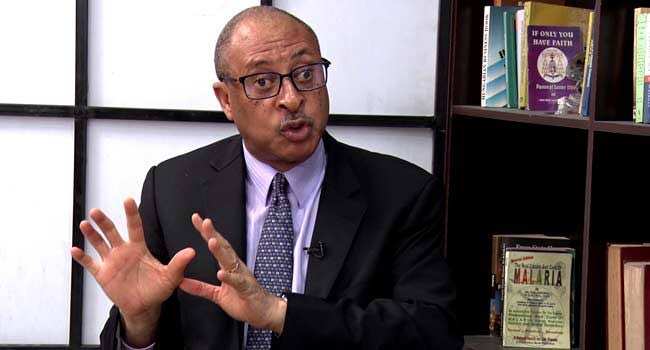 What should be your advice in this regard?
Clearly, society ought to find ways that are debated properly on how best to deploy this for the interest of society. If I have my way, I would make that money available to the NSIA Sovereign Wealth Authority that can invest it in a long-term project for the good of society. But, to just go and borrow it for the running of government, to pay salaries, for some politicians or civil servants, I think it is not the wise thing to do.
As an economic expert, how can the FG revamp its dwindling economy?
First of all, you need a strategy before you touch money. If not, you would go the way the other monies went. We need a bulk-back game plan.
How does this strategy work?
I would give you an example of my own, but it does not mean my own is the best. My preferred strategy is saying first of all the basis of growth and development is production. Any money that does not lead to consistent production will not work with me.
And what strategy do I need to use to deploy more production? That strategy is called latent comparative advantage, which means you think of what your factor endowments are. What are you strong at? What did God give you strength in?
For instance, Maybe it is a hydrocarbon in the south-south, maybe it is cocoa in the southwest. Whatever it is, you then create an industrial policy that you can track how long it will take in the X number of years to become the global leader of the global value chain in that endowment.
The essence is to get the optimal point of production and that production does not give us a permanent infant industry but for just that particular product over a long period of time and we are able to become dominant and that competitiveness drives us. So, a clear game plan like that. And then, you can take the money and put in that kind of thing.
Is insecurity a predicament to foreign investment in the country?
Yes, many things chase away investors. Obviously, security is always important. If you don't have security, people don't want to risk their lives. But, if the area is important enough, people do all kinds of things. When the Angola war was going on, a province had gulf oil operating.
So, people take risks when they see the benefit. But, that is not to say you should go and create insecurity. The naked truth is that insecurity constitutes part of the major reasons. We need to have a clear strategy for dealing with it.
Insecurity, for Nigeria, is not just Boko Haram or herdsmen killing people. Insecurity is really the general perception that people are not happy in Nigeria and that they are in an unjust federation and there is just general unhappiness. That is the biggest source of insecurity.
Is it synonymous with the saying Nigeria is a failing state?
Of course, the term is an emotive usage but it is something we should pay attention to.
PAY ATTENTION: Install our latest app for Android, read best news on Nigeria's #1 news app
Meanwhile, Legit.ng had previously reported that in what may annoy many politicians from the northern part of the country, Utomi discovered why they have a phobia for restructuring.
It was reported that the professor of political economy, some politicians in the north are afraid of restructuring because they are uncertain about where it will lead them.
He disclosed this while speaking at a virtual media parley ahead of the 'Never Again' conference to mark 51 years after the civil war.
Laolu Akande Speaks on How Presidency is Tackling Economy | – on Legit TV