– Vice President Yemi Osinbajo's exemplary conduct in government continues to win the hearts of many Nigerians
– Attempts by some Nigerians to compare Osinbajo to US Vice President Mike Pence recently failed woefully
– Many who admire the Nigerian number two man defended him vigorously and went on to reel out his bold moves since he came into office
PAY ATTENTION: Join Legit.ng Telegram channel! Never miss important updates!
Following opposition criticisms on Vice President Yemi Osinbajo with a controversial comparison with US Vice President Mike Pence, some Nigerians on social media have come out in defence of Nigeria's number two citizen.
This comes as US VP Pence on Wednesday, January 6 publicly declared that he cannot submit to President Donald Trump's demands for him to overthrow the results of the 2020 US election after Joe Biden won more popular and electoral college votes than Trump.
On Thursday, January 7, the US Electoral College also confirmed Biden as the winner of the US presidential election.
Also Thursday, Trump's supporters stormed the US Capitol Hill complex, which many have condemned and described as a shameful day for America's democracy.
Many Nigerians on social media have noted that this has never been the case in Nigeria under President Buhari, but some others used to opportunity to make comparisons with Vice President Yemi Osinbajo.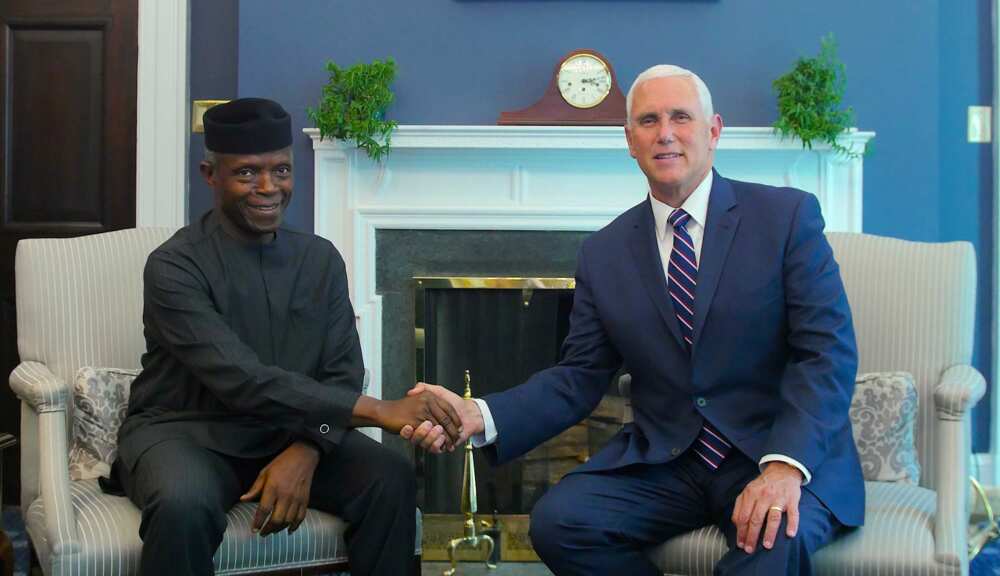 PAY ATTENTION: Install our latest app for Android, read best news on Nigeria's #1 news app
But supporters of the vice president dismissed the comparison, saying Nigeria's number two man has always stood for truth, justice, and upheld democracy.
Others pointed to the fact that the VP (as Acting President) sacked the former Director-General, State Security Service (SSS), Lawal Daura when the then SSS boss violated the sanctity of the National Assembly.
Osinbajo had then described the unauthorised takeover of the National Assembly complex:
"A gross violation of constitutional order, rule of law and all acceptable notions of law and order."
Other Nigerians who are admirers of the vice president, further noted that there is no comparison with Pence's action, arguing that Osinbajo has been the most active and selfless VP in Nigeria's history.
Below are some reactions from Nigerians on social media seen by Legit.ng.
Mayowa Olaniyan @olaniyanmayowa wrote on Twitter:
"Even in the midst of this mess Pence never stood up to his boss but stood to uphold the constitution. Just like Pence, Osinbajo stands for the Nigerian constitution and not against his boss. The sacking of Lawal Daura is a testament to this fact. Not every VP can be like Atiku."
Gloria Adagbon @gloria_adagbon wrote:
"VP Osinbajo is loyal and dedicated to helping his boss serve Nigeria better. During #EndSARS Osinbajo stood for Nigeria by his patriotic actions."
Solomon Adamu @Solex2030 wrote:
"This comparison has no basis, there was never a time that Osinbajo had to choose between the Constitution of Nigeria and Buhari and he chooses the latter."
CBN Gov Akinsola @cbngov_akin1 wrote:
"There is no basis for comparison between US Mike Pence in relation to his role as Trump's deputy and Osinbajo's role as Nigeria's VP under President Buhari. Trump's actions many times incited rebellion against the American constitution."
Olayemi Esan @Olayemiesan wrote:
"It was @ProfOsinbajo whose voice was heard loud and clear condemning the shooting incident at Lekki and standing with the people of Lagos when no one in power was speaking about it. This is inspite of the fact that he as VP had no direct supervisory role over security matters."
Adeagbo Opeyemi @AdeagboOpeyem17 wrote:
"Professor Osinbajo is a man that can never be dragged. His integrity, dignity, value, brilliance, and loyalty to his country and office speak for him. Simply the best!"
Earlier this week, Tolani Alli, the personal photographer to Osinbajo dismissed the claims of a woman who called out her boss on social media over an accident involving her car.
Alli released photographs with timestamps to show that the vice president's convoy was not the one involved in the incident as earlier claimed by the woman.
Recall that the presidency had on the same day shared photos of Osinbajo briefing President Muhammadu Buhari.
The vice president was said to have visited his boss to brief him on the progress of the implementation of the Economic Sustainability Plan.
Osinbajo, Atiku, Tinubu: Nigerians speak on who becomes next president | Legit TV