The foreign affairs minister of the Republic of China, Wang Yi alongside some delegates has been received in Abuja by President Muhammadu Buhari.
Yi was ushered into the State House on Tuesday, January 5, by his Nigerian counterpart, Geoffrey Onyeama.
According to Onyeama, the delegation was in Nigeria to discuss the way forward on the nation's infrastructural development.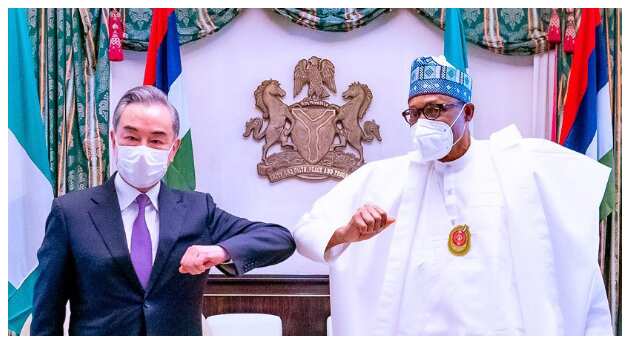 In his address to the Chinese delegates, President Buhari thanked the Asian nation for its undying support, especially in the area of infrastructure, the most recent of which is the construction of rails.
He said:
"We thank China for its support to us in various ways; in the building of rail, road, power, defence, and many others.
"You are helping us to reduce our severe infrastructural deficits, and we are glad. There cannot be sustainable development without infrastructural development."
On his part, Yi described Nigeria as
He vowed that China would encourage some of its firms to increase their investments in Nigeria and exchange experience and techniques in areas like digital economy and defence.