– Reactions against Kukah's statement about the state of the nation has taken another dimension
– This time, MURIC founder Akintola has verbally insulted the respected cleric
– He specifically accused Kukah of disrespecting Islam
Professor Ishaq Akintola has criticsed Bishop Matthew Hassan Kukah. The founder, Muslim Rights Concern (MURIC), accused the Catholic Bishop of Sokoto Diocese of disrespecting Islam.
Specifically, he said Kukah described Islam as a violent religion.
He said this in reaction to Kukah statement about the state of the nation. Akintola who described the bishop as a first-class blackmailer also blamed him for tackling Buhari.
He said.
"We are shocked to our marrows by the vitriolic attack launched yesterday by Rev. Hasan Kukah against Islam as a religion. The Catholic Bishop of Sokoto Diocese referred to Islam as a violent religion. He also surreptitiously called for a coup against a democratically elected government of President Muhammadu Buhari whom he falsely accused of nepotism."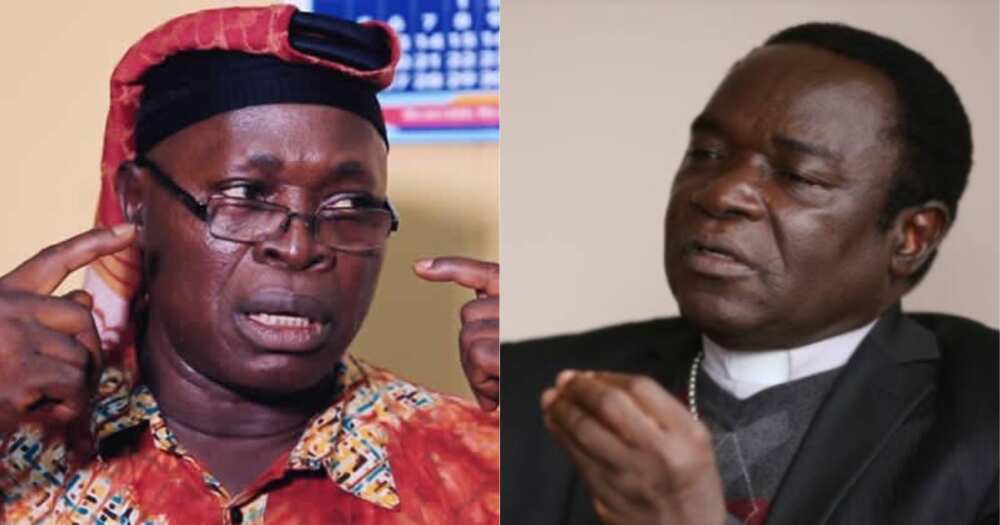 "According to him, '…There is no way any non-Northern Muslim President could have done a fraction of what President Buhari has done by his nepotism and gotten away with it. There would have been a military coup…' In other words there could have been a coup if a non-Northerner had practised nepotism like Buhari."
"This is a most irresponsible pronouncement and we will not allow it to go unchallenged. Kukah's statement is reckless, inflammatory and unguarded. It is the most egregious, luciferous, serpentine and diabolical statement of the year 2020. Hasan Mathew Kukah is ululating from the wrong side of the pulpit.
"Kukah is in the habit of demonizing and demarketing any president who happens to be a Muslim. In particular, we are most disappointed that such a heavily prejudiced and explosive statement is coming from the secretary of Nigeria's Peace Committee. His behavior is consistently inconsistent with his status."